Here are some ways our crawl space solutions can help:
To get rid of mold that has grown in your crawl space, we will treat it with Moldex. Moldex cleans, kills, and disinfects to get rid of mold and mildew!
To reduce moisture in the crawl space we need to know the source:

For moisture from the ground, vapor barrier can be installed to relieve your crawl space from the effects from that moisture.
For moisture from outside, a brand-new crawl space door can be installed to alleviate the moisture.

In order to avoid unwanted pests, we can install a brand-new crawl space door which our team makes sure is sealed tight.
If your crawl space suffers from standing water, we can install either a sump pump or a drainage pipe. Though in rare occasions it might not be the case, it is usually recommended that both be installed.
In order to condition the air in your home, you'll want to get your crawl space examined. You can lose energy if your crawl space is not conditioned because it will heat against outdoor air! To prevent energy loss, we can install a dehumidifier which will keep your crawl space air conditioned.
Here is an example of what your crawl space could look like!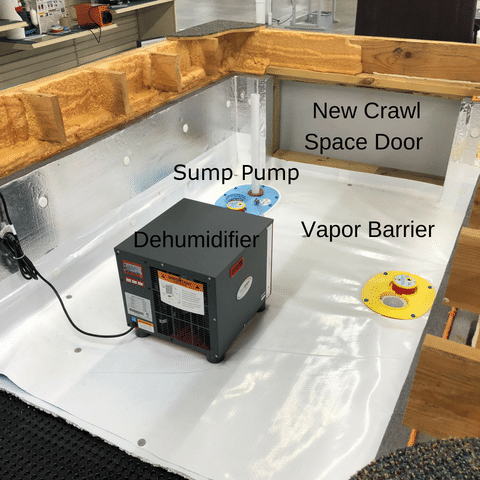 This is the perfect set-up for what a crawl space should look like in order to prevent moisture, mold, or pest problems!