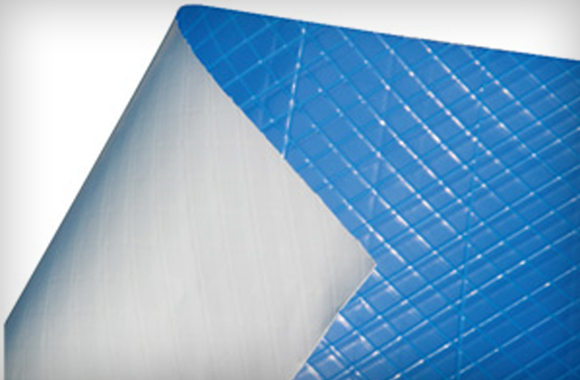 Crawl space encapsulation involves applying a vapor barrier to the crawl space walls, sealing the crawl space support piers with a vapor barrier, and installing a vapor barrier on the entire crawl space floor. Carolina Energy Conservation uses two different products for these applications. On the floor, Carolina Energy Conservation uses a 20-mil thick vapor barrier similar to a swimming pool liner. The material is manufactured in seven layers – a blend of high-density polyethylene, low-density polyethylene, and two layers of polyester cord reinforcement. It is blue on one side and white on the other to brighten the crawlspace. The material is naturally antimicrobial to discourage mold and mildew growth. It is strong enough to withstand workmen crawling around on the floor and makes using the crawlspace for storage a safe and easy proposition, without fear of damaging the vapor barrier.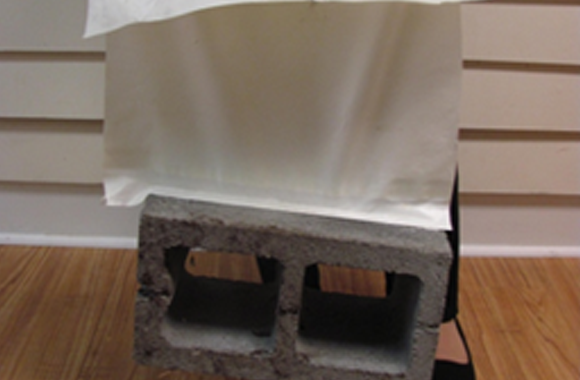 The Crawl Curtain is 9 mils thick, flexible enough to follow the contours and irregularities of a foundation wall, but strong enough to last the life of the home. The Crawl Curtain is a polyethylene coated polypropylene and polyester fabric. It is a true Class I vapor barrier.The Crawl Curtain is installed using a low VOC adhesive so it is safe for installation contractors, homeowners, and their families. Since the adhesive is low VOC, it only off-gasses only harmless CO2.
Since no additional mechanical fasteners are necessary, it will not damage the foundation wall. And since water is a catalyst for polyurethane to cure, it will adhere to any foundation wall, even a water saturated wall. It is the ideal adhesive for a potentially damp crawlspace. And the bond is so strong it will support the weight of a concrete block!
For Carolina Energy Conservation, the safety of our customers and the safety of employees is always a major concern. Most importantly, the homeowner will be living in their home long after the crawlspace contractor and installation crew has packed up their tools and left. To that end, all of our materials, from the adhesives we use to the vapor barrier on the walls and ground, are nonflammable, nontoxic, and low VOC (volatile organic compounds). They are absolutely safe for the homeowner, the homeowner's pets, and the environment.
Carolina Energy Conservation is so confident that our crawl space encapsulation system uses only the very best materials and installation techniques, we offer a 25 year warranty on the materials we install and we stand behind our installations in South and North Carolina. To our knowledge, that is the best warranty on a crawl space encapsulation offered in the industry.Read the testimonials from our previous customers then call for a free, no obligation assessment from one of the crawl space building scientists at Carolina Energy Conservation..