A Carolina Energy Conservation Water Mitigation Plan
For some crawl spaces, standing or even running water presents a particularly daunting challenge. Every house with a standing or running water problem is unique and must be individually assessed. After a thorough assessment, a standing/running water mitigation plan can be formulated.There are a number of possible sources of standing or flowing water.
The home may have improperly installed gutters and downspouts or no gutters and downspouts at all, causing water to pool around the foundation.
The exterior foundation of the home may have been improperly graded causing water to flow into the crawl space.
The home may be in an area with a particularly high water table.
The foundation wall may be damaged causing water to flow into the crawl space.
There may be a slow plumbing leak.
A wet crawl space floor can cause the cause a foundation to sink leading to tens of thousands of dollars in foundation and other repairs.
During a free, no obligation crawl space assessment, a Carolina Energy Conservation crawl space expert will discuss your options for solving your standing or running crawl space water problem. An assessment is necessary because every crawl space is unique. The solution for one crawl space's water problem won't necessarily be the solution for another. The solution to every crawl space standing or running water issue will be a combination of
Rough grading the crawl space floor.
Adding a perimeter drain.
Drainage matting under our 20-mil vapor barrier.
Adding a sump pump and draining the sump pump to the outside.
A dehumidifier may be necessary to dry water saturated framing and insulation.
Carolina Energy Conservation uses only the best quality materials and water mitigation techniques available, including the Triple Safe Sump Pump, Perimeter Drain, Drainage Matting, Dehumidifiers.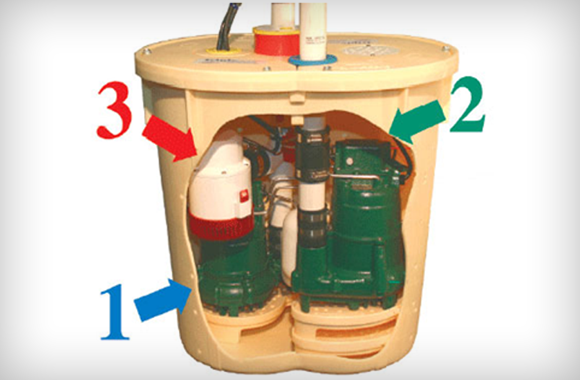 Triple Safe Sump Pump – What happens to the water that flows under the drainage matting and into the perimeter drain? The perimeter drain empties into the Triple Safe Sump Pump.The Triple Safe Pump has three pumps for maximum protection. The first pump is for primary use.
The second pump is a backup in the event the primary pump fails.
And in the event there is a power failure as the result of flooding, the third pump is a battery backup pump.
The Triple Safe Sump Pump comes standard with an airtight lid, an alarm and a floor drain.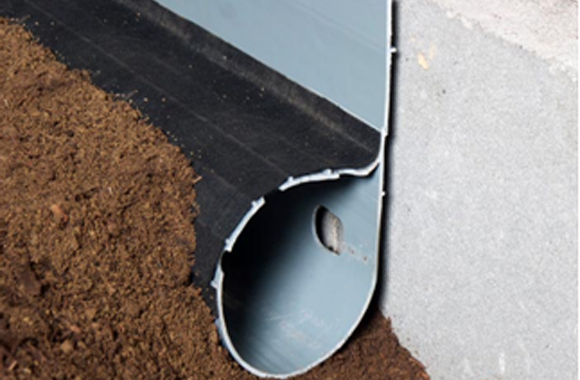 Perimeter Drain – SmartPipe's™ custom design has holes on the top and front under a filter fabric, to accept water from the soil and the surface of your crawl space.There is a special flange with spacers on the back, and large holes to accept water from the crawl space walls and the footing/ wall joint.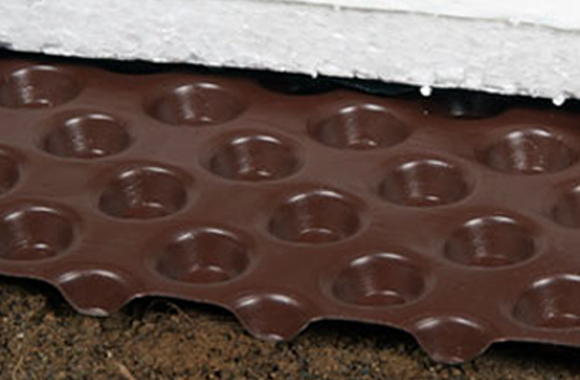 Drainage Matting – When necessary, Carolina Energy Conservation installs drainage matting under the crawl space floor vapor barrier. Sometimes crawl space liners rest directly on the crawl space floor. If your crawl space is flooding, water can be trapped underneath, never making it to your perimeter drain. The raised dimples on our drainage matting gives the water flooding into your crawl space a channel underneath your crawl space liner. This directs the water flooding your crawl space to your perimeter crawl space drain and sump pump system.A crawl space vapor barrier is an excellent way to keep water and moisture from your crawl space, but it's also important to drain away flooded water that collects underneath. By installing drainage matting, your crawl space is protected and water is directed to your drainage system.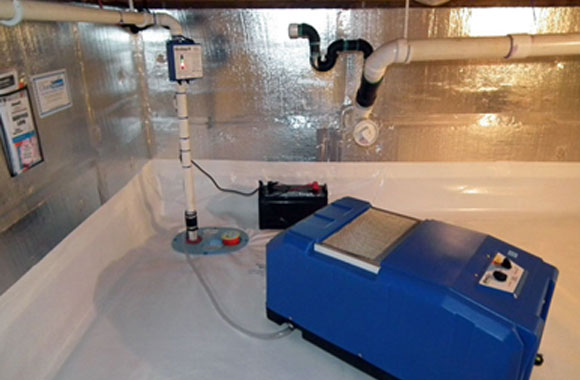 Dehumidifiers – Most crawl spaces, especially in the southeast, have moisture problems. A vented crawl space that has a dirt floor is certain to be a damp environment where mold, mildew and even wood rot can easily take hold.Drying out this damp environment is a smart move, for your home's value and for your family's health. Once the standing and running water problem has been addressed, effective crawl space dehumidification can keep your crawl space dry enough to discourage mold growth and keep moisture-loving dust mites away.The SaniDry™ CX® dehumidifier is designed to provide many years of energy-efficient, trouble-free performance, even in tough crawl space conditions. It drains automatically, so there is no reservoir to empty. The SaniDry™ CX meets stringent ENERGY STAR® requirements for energy efficiency, and it's precisely calibrated controls allow you to dial in the desired humidity level.